Treat your house to a brand new door, there are several options available:
Composite
Ultra-modern Composite
UPvc panel
UPvc cruciform
Composite Doors
The composite range offers a huge amount of options with the added bonus of different coloured options, this is coupled with the added strength and security of a solid composite door. Obviously though, this comes at a cost, making it a nice option as a front door.
Ultra-Modern Composite Doors
New Ultra Modern doors in a variety of different colours and coloured frames, with a unique patented handle design, be the talk of the street!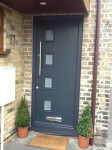 UPvc panel doors
The UPvc panel option is the best 'other choice' for a front door, its now available in a number of colours, but with more traditional designs than the composite option. It is also a slightly more cost effective solution, and with a lot of different variations.
UPvc cruciform doors
The UPvc cruciform option is generally used for the typical back door design, however with some fancy glass it can make a nice alternative as a front door, and it does benefit from the extra strength over a typical panel door, but being the cheapest option.
Contact us for some brochures or to discuss these different options.
Free 12 month checkup
As part of our commitment to quality service and quality products; call us one year after installing your door(s) and we will pop around to check, lubricate and adjust them to make sure they are operating smoothly and efficiently.
See what a difference a new door can make…