Treat your house to a brand new door, there are many options available: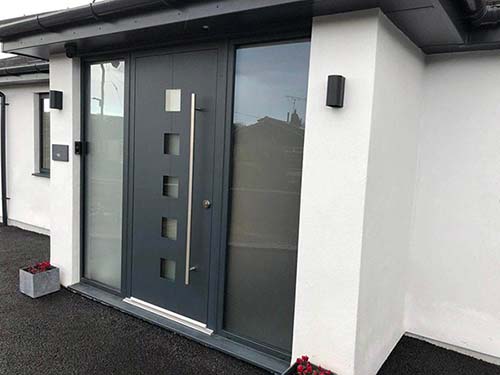 UPvc panel doors
The UPvc panel option is the best 'other choice' for a front door, its now available in a number of colours, but with more traditional designs than the composite option. It is also a slightly more cost effective solution, and with a lot of different variations.
UPvc cruciform doors
The UPvc cruciform option is generally used for the typical back door design, however with some fancy glass it can make a nice alternative as a front door, and it does benefit from the extra strength over a typical panel door, but being the cheapest option.
Contact us for some brochures or to discuss these different options.
Composite replacement doors
Composite & Ultra-Modern composite Doors
The composite range offers a huge amount of options with the added bonus of different coloured options, this is coupled with the added strength and security of a solid composite door. Obviously though, this comes at a cost, making it a nice option as a front door.
Premium dual rebate replacement doors
Premium Aluminium replacement doors
Premium Aluminium replacement doors
This revolutionary new door design turns the traditional look of a composite door on its head and offers an unrivalled ultra-modern finish. Comparable to an aluminium door in everything but price, it exudes luxurious style and delivers a premium architectural finish.
Free 12 month checkup
As part of our commitment to quality service and quality products; call us one year after installing your door(s) and we will pop around to check, lubricate and adjust them to make sure they are operating smoothly and efficiently.
See what a difference a new door can make…
Or go for something really contemporary… Orange door with grey frame: